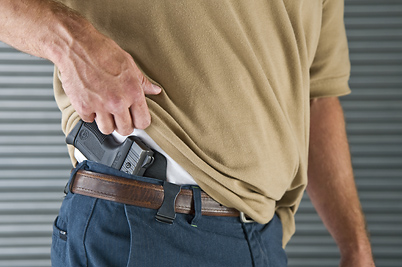 (Minimum pre-requisite of NRA Basic Pistol or CDT's Intro Class.)
This course consists of Classroom and Live-Fire Range, with discussions of the legality of the use of deadly force, as well as your psychological and physiological reactions to using deadly force.
We also will cover various methods of concealed carry, and discuss ease of concealment versus ammunition capacity, ease of access, and "covert carry" compared to "concealed carry."
Significant practice will be undertaken in accessing your firearm from concealment, under varying garments, such as jackets, t-shirts, sweatshirts, etc….all dry-fire.
No live fire repetitions will be undertaken until all are demonstrating a thorough understanding of how to safely access a concealed pistol or revolver, keeping the muzzle of the firearm in a safe direction at all times and trigger finger away from the trigger until sights are on target.
Live fire exercises, when undertaken, will be a "crawl-walk" progression. Concealment holster options are AIWB (Appendix inside the waistband) or IWB (Inside the waistband, strong side hip) or OWB (outside of the waistband, for under shirt-tail) only. No shoulder holsters, purse carry or other off-body carry permitted.
Students should bring their pistol or revolver, an above described concealment holster of reputable quality (rigid leather or kydex, made for your make/model pistol), a light jacket, sweatshirt, and wear casual and un-tucked long-sleeve shirts/blouses (nothing low cut). Wear regular pants with a study belt, closed toe shoes, and a ball cap. Have eye and ear protection.
Bring a light lunch and drinks, for a "working lunch," and 200 rounds of ammunition of the appropriate caliber.