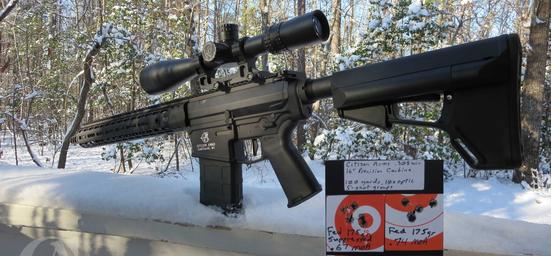 This course is designed for the prospective, new or inexperienced AR-15 rifle owner. The course consists of a half day in the classroom beginning with SAFETY, learning the history, cycle of operation, function, field disassembly/assembly, nomenclature, safe loading/unloading, basic malfunction clearances, and sighting options, both iron sights and RDS and LPV's.
Ammunition types, ballistics and performance choices discussed in the context of mission.
No live ammunition in the classroom, "dummy rounds" provided.
Second half of the day will be on the range and will consist of live fire drills in the basic firing positions of standing, seated and prone. Zeroing the rifle will be worked through; why and at what distances.
Single rounds, multiple rounds, reduced target zones, and efficient gun handling will be demonstrated and practiced.
Equipment needed:
Eye and ear protection
Ball cap
Clothing appropriate for the weather and conditions.
Shooting mat, if desired.
Ar-15 style rifle or pistol.
Two rifle magazines
One or more magazine pouches worn on the belt.
200 rounds of .223 or 5.56×45 ammunition.
NOTE: Make sure your rifle is made for 5.56, which will accept both .223 and 5.56. Do NOT use 5.56 ammo in a rifle chambered for .223 only.
NOTE: Know the value of your adjustments for both iron sights and, if applicable, your red dot sights. Usually expressed in "MOA per click," can be found in owners manual for your sights, or online by make/manufacturer. Know in advance and all of our lives will be easier.
Limited number of rental rifles available and reserving one must be done in advance. This option is for prospective AR owners who have not yet decided on a make/model.
Approximately eight (8) hours w/ Limited Enrollment.
Equipment required:
AR-15 style rifle
At least two (2) functional rifle magazines
Eye/ear protection
Billed cap
500 rounds of appropriate ammo
Pre-requisite; CDT Basic Rifle or equivalent. Contact for consideration of approval of accepted prior training.
Safety, Dry-fire manipulations review (loading, unloading, stances, positional shooting)
Malfunctions and Clearances (dry-fire and live), Off set, Rapid engagements, increasing distances, multiple round engagements, multiple targets, timed evolutions, decision making, close with accuracy drills.
NOTE: RFGA Members contact Scott Fidler for 15% Off code.